A building to elevate human health, air quality, and biodiversity.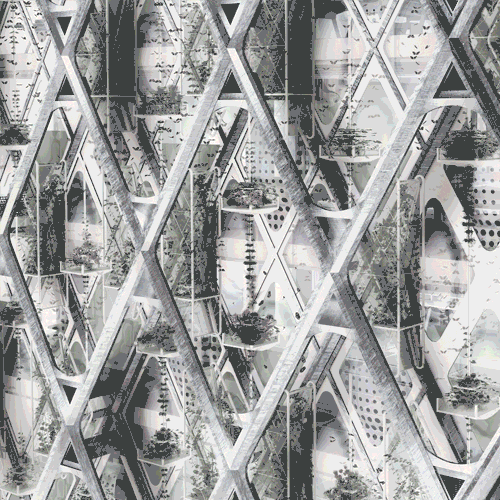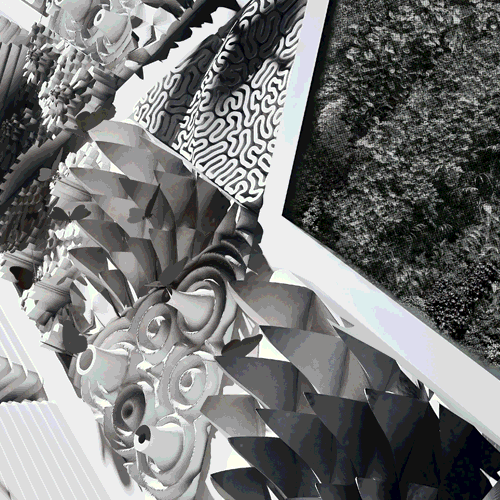 Urban way-stations as population re-generators.
This project will vitally serve as a large-scale Lepidoptera terrarium. It will bolster the monarch's presence in the city through two strategies: open plantings of milkweed and nectar flowers on the roof, rear facade, and terrace will provide breeding ground and stopover habitat for wild monarchs, while semi-enclosed colonies in the atrium and street side double-skin facade will grow monarch population. The insects will have fluid open access to join the wild population, enhancing overall species population numbers.
"Remediate includes a monarch sanctuary - the insects' populations are dwindling due to climate change—by Brooklyn-based ecological designer Terreform ONE to demonstrate designers' efforts to help reverse some of the negative impacts of our carbon footprint."
Other features of the project are equally in service of the insects. LED screens at the street level provide magnified live views of the caterpillars and butterflies in the vertical meadow, which also connects to a multi-story atrium adjacent to the circulation core. Interior partitions are constructed from mycelium, and additional planting at the ceiling enhances the interior atmosphere and building biome. Hovering around the building, a few butterfly-shaped drones take readings and maps of the immediate microclimate. They return every few minutes to recharge, and their combined real-time data works to maintain the butterfly health.
Credits:
Principal Investigator: Mitchell Joachim.
Managing Principal: Vivian Kuan.
Advisors: Nina Edwards Anker, Lisa Richardson.
Architects / Designers: Christian Hubert, Nicholas Gervasi, Maria Aiolova, Anna Bokov, Kristina Goncharov, Yucel Guven, Zhan Xu, Larissa Belcic, Shahira Hammad, Deniz Onder, James Leonard, Zack Saunders, Xinye Lin, Sabrina Naumovski, Theo Dimitrasopoulos, Jules Pepitone, Dan Baker, Daniel S. Castaño, Aidan Nelson, Aleksandr Plotkin, Kristian Knorr, Sophie Falkeis, Rita Wang, Michael Brittenham.
Consultants: Bednark, Anouk Wipprecht, Simone Rothman.
Sponsors: BASF, Intel, RNR Foundation, Future Air.
Client: Kenmare Square LLC. Jackie Jangana, and Andrew Kriss.
Location: Nolita, New York, NY
Area: 395 m2
Year: 2017 - Present
Research / Sources: Invaluable input, questions answered, and insights from: Monarch Joint Venture - Wendy Caldwell, Project Monarch Health - Dr. Sonia Altizer, University of Minnesota Monarch Lab - Katie-Lyn Bunney, Center for Biological Diversity - Tierra Curry, and New York Times Contributing Writer - Margaret Renkl.
A physical map to project population increase through parametric design and biological growth.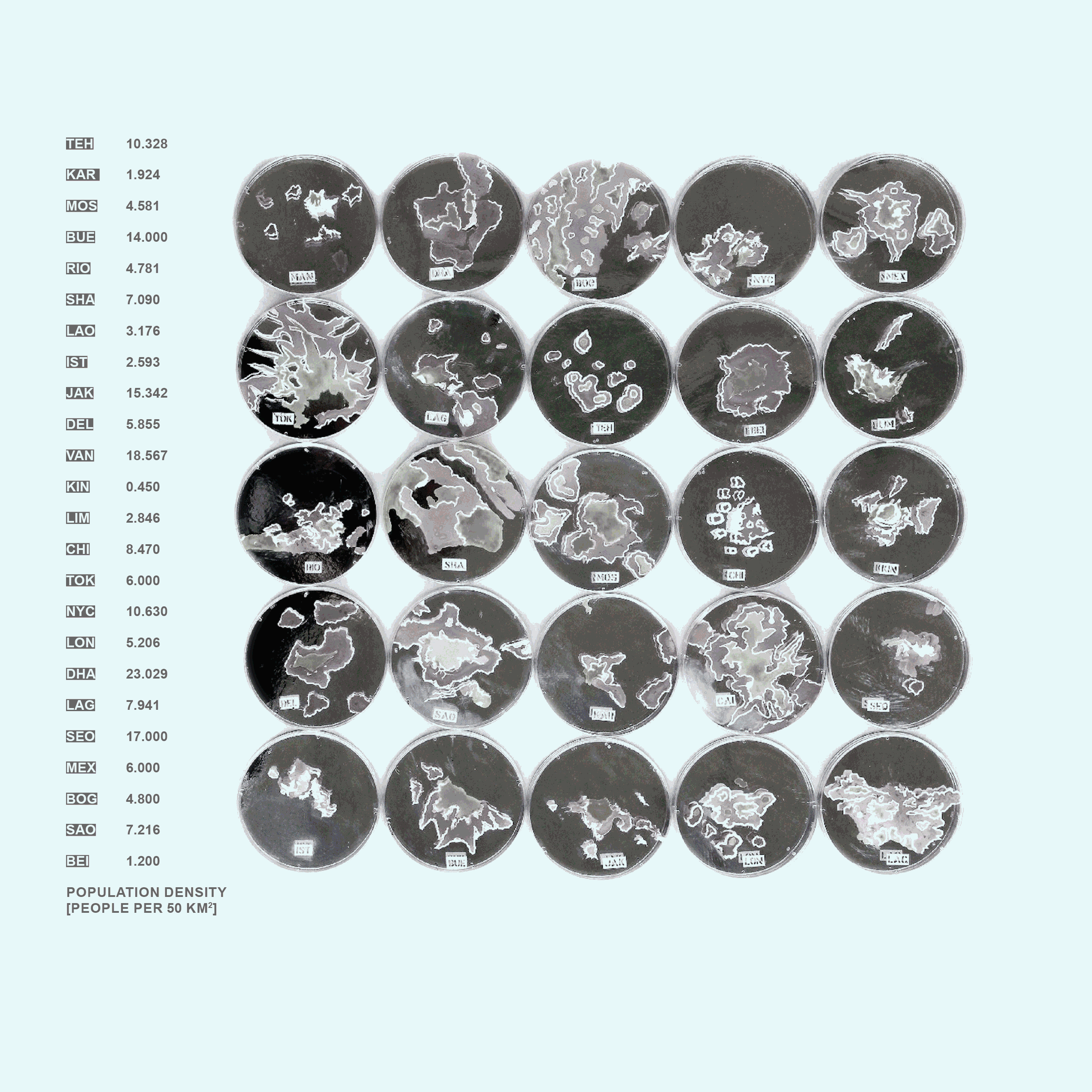 Transgenic E. coli, thermoformed styrene plates, carbon fiber rods, USB 400x microscopes, and UV LED lighting.
This map displays population density as a parametric graph on the front and the back is made with living biosynthetic transgenic matter. These living elements focus on twenty-five mega-cities, genetically designed and grown inside petri dishes. Our novel approach experimented with living populations that consisted of billions of bacterial cells. We chose colonies of E. coli as a method of demonstrating exponential population growth using synthetic biology.
"But instead of specifying which petri dishes or 3D graphs correlate with which cities, the Bio City Map is geographically indiscriminate. Current urban areas, countries, continents or even bodies of water remain unreferenced, so that the population statistics and data of each city come together to form a single, transcontinental urbanity. In turn, it becomes a city of cities."
— JOHNNY MAGDALENO | VICE
Credits:
Mitchell Joachim, Nurhan Gokturk, Melanie Fessel, Maria Aiolova, Oliver Medvedik.

Research Fellows: Chloe Byrne, Keith Comito, Adrian De Silva, Daniel Dewit, Renee Fayzimatova, Alena Field, Nicholas Gervasi, Julien Gonzalez, Lucas Hamren, Patty Kaishian, Ahmad Khan, Laasyapriya Malladi, Karan Maniar, Ricardo Martin Coloma, Puja Patel, Merve Poyraz, Mina Rafiee, Mahsoo Salimi, Manjula Singh, Diego Wu Law.
Location: Exhibited in New York, Toronto, and Venice.
Area: 22 m2
Year: 2013 - 14

This website features projects from various architecture, urban design, and preservation firms I have worked for as well as academic projects from Columbia University and Tulane University. The work is collaborative in nature with many images created by the joint efforts, skills, and rigor of a team.